John R. Seffrin, MS '67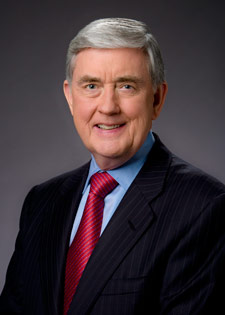 Chief Executive Officer

---

American Cancer Society
Although he has been the chief executive officer of the American Cancer Society since 1992, John Seffrin's life was touched by cancer much earlier. Cancer claimed his grandmother's life when he was 10, and, later, his mother's life. His wife of 43 years, Carole, is a breast cancer survivor. He began his affiliation with the American Cancer Society as a volunteer.
John's leadership of the organization has been described as visionary. He is credited with revolutionizing the American Cancer Society by integrating the ideas of prevention and health education into its mission. He spearheaded the creation and serves as chief executive officer of the Society's nonprofit, nonpartisan advocacy affiliate, the American Cancer Society Cancer Action Network. He has taken the message and the mission of the American Cancer Society into legislatures around the country and forums around the world. He is past president of the International Union Against Cancer, based in Geneva, Switzerland, served as chairman of the board of Independent Sector, the largest coalition of nonprofit groups, and helped to create the National Center for Tobacco-Free Kids, now called the Campaign for Tobacco-Free Kids. He currently serves on the Advisory Committee to the Director of the US Centers for Disease Control and Prevention.
John completed an M.S. in health education at the University of Illinois and a Ph.D. in health education at Purdue University. Prior to joining the American Cancer Society as CEO, he was a professor of health education and chairperson of the Department of Applied Health Science at Indiana University. He has contributed to more than a dozen books and written more than 100 articles and other publications. In recognition of more than 30 years of dedicated leadership in the worldwide fight against cancer, Ball State University, Purdue University, Thomas Jefferson University, and Indiana University have awarded him honorary doctoral degrees.