Reginald Alston, Ph.D.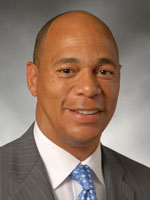 Professor and Associate Department Head
Department of Kinesiology and Community Health
College of Applied Health Sciences
Email: alston@illinois.edu
Phone:(217) 333-2307
Fax:(217) 333-2766

University of Illinois at Urbana-Champaign
Download Curriculum Vitae (PDF)
---
Degree
Ph.D., Rehabilitation, Florida State University, 1987
Research and Professional Interests
Dr. Alston's primary research interests include disparities in outcomes across racial groups in state/federal rehabilitation services and psychosocial adjustment to chronic illness and disability for African Americans.
See curriculum vitae for information about awards, academic and professional honors, publications, and professional associations and certifications.