Flavia Andrade, Ph.D.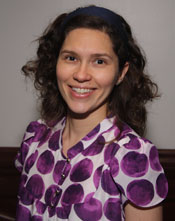 Assistant Professor
Department of Kinesiology and Community Health
College of Applied Health Sciences
Email: fandrade@illinois.edu
Phone:(217) 333-3675
Fax:(217) 333-2766

University of Illinois at Urbana-Champaign
Download Curriculum Vitae (PDF)
Research: Demography of Health and Aging
---
Degree
Ph.D., Sociology, University of Wisconsin-Madison; 2006
Research and Professional Interests
Dr. Andrade's professional interests include demography, population health, aging and the life course, research methods and statistics, socioeconomic disparities in health, and sociology of family. Her research focuses on demography and population health. Dr. Andrade's current research examines the interactions among aging, disability, obesity, and diabetes mellitus. She is also interested how socioeconomic inequalities over the life course influence later life outcomes, in particular, health outcomes. Her interest in aging and the life course also extends to the analysis of living arrangements of elderly individuals.
See curriculum vitae for information about awards, academic and professional honors, publications, and professional associations and certifications.