Angela Rose Black, Ph.D.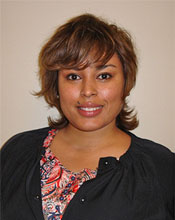 Assistant Professor
Department of Kinesiology and Community Health
College of Applied Health Sciences
Email: arblack1@illinois.edu
Phone:(217) 333-2307
Fax:(217) 333-2766

University of Illinois at Urbana-Champaign
Download Curriculum Vitae (PDF)
---
Degree
Ph.D., Child and Family Development, University of Georgia, 2006
Research and Professional Interests
Dr. Black's professional interests include linkages between stress and health in African American women, social determinants of mental and physical health disparities among African American women, deconstructing stigma surrounding mental health illness in the African American community, and cultural competence skills and awareness of health practitioners. She is currently developing a conceptual model to explain precursors for chronic mental and physical illness among African American women. Bridging feminist tradition with the health and social sciences, Dr. Black explores linkages among embodied racial and gender oppression, feminine scripts, particularly the "strong black woman" script (SBW-S), and strategies for daily life management (i.e., role management, coping and self-care) to trace physiological and behavioral paths to stress-related and obesity-related illness among African American women. Initial applications of the model include asthma management, anxious and depressive symptomatology, and general physical health status. Dr. Black is also interested in developing multimedia health promotion initiatives and health behavior interventions.
See curriculum vitae for information about awards, academic and professional honors, publications, and professional associations and certifications.