David M. Buchner, M.D., M.P.H.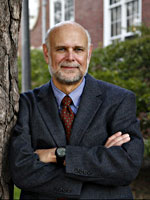 Professor
Department of Kinesiology and Community Health
College of Applied Health Sciences
Email: dbuchner@illinois.edu
Phone:(217) 244-1510
Fax:(217) 333-2766

University of Illinois at Urbana-Champaign
Download Curriculum Vitae (PDF)
---
Degree
B.A., Harvard University, Cambridge, Massachusetts, 1974
M.D., University of Kansas; Kansas City, Kansas; 1977
M.P.H., University of Washington, Seattle, Washington; 1984

Research and Professional Interests
Dr. Buchner's area of interest is community-level approaches to chronic disease prevention, particularly approaches to promoting physical activity. From 1999 to 2008, he directed the Physical Activity and Health Branch at the Centers for Disease Control and Prevention, where he participated in national initiatives to promote physical activity. His research has focused on physical activity and aging. He has studied the role of physical activity in preventing functional limitations, disability, and falls. He is also interested in environmental and policy interventions to promote physical activity.
See curriculum vitae for information about awards, academic and professional honors, publications, and professional associations and certifications.