Lydia P. Buki, Ph.D.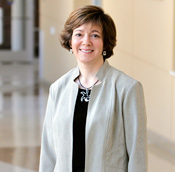 Associate Professor
Department of Kinesiology and Community Health
College of Applied Health Sciences
Email: buki@illinois.edu
Phone:(217) 265-5491
Fax:(217) 333-2766

University of Illinois at Urbana-Champaign
Download Curriculum Vitae (PDF)
Research: The Latina/o Health Literacy Research Group
---
Degree
Ph.D., Counseling Psychology, Arizona State University, 1995
Research and Professional Interests
Research and professional interests are centered on breast and cervical cancer issues faced by Latina women in the United States. Dr. Buki is currently examining barriers and behaviors that prevent early detection of breast and cervical cancer and the psychological needs of those already diagnosed.
See curriculum vitae for information about awards, academic and professional honors, publications, and professional associations and certifications.