Nicholas A. Burd, Ph.D.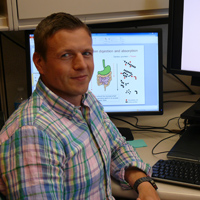 Assistant Professor
Department of Kinesiology and Community Health
College of Applied Health Sciences
Email: naburd@illinois.edu
Phone:217-244-0970
University of Illinois at Urbana-Champaign
Download Curriculum Vitae (PDF)

---
Degree
M.S., Exercise Physiology, Ball State University
Ph.D., Kinesiology, McMaster University
Research
Nutrition and Exercise Performance Research Group
Research and Professional Interests
Dr. Burd's area of research interest is exercise physiology. Our research group investigates the effects of nutritional and exercise manipulations on the regulation of muscle mass and changes in body composition with aging, disease, and the athlete. We use stable isotope labeled amino acid tracers, and various other molecular techniques, for the in vivo measurement of whole body and muscle protein turnover in a human model. The knowledge gained from this work is used to define nutritional and exercise strategies to improve muscle health and performance.

See curriculum vitae for information about awards, academic and professional honors, publications, and professional associations and certifications.