Chung-Yi Chiu, Ph.D.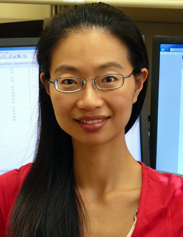 Assistant Professor
Department of Kinesiology and Community Health
College of Applied Health Sciences
Email: chiucy@illinois.edu

Phone:(217) 244-6435

University of Illinois at Urbana-Champaign
Download Curriculum Vitae (PDF)
Research: Health Promotion and Rehabilitation Lab
---
Degree
Ph.D. Rehabilitation Counseling Psychology, University of Wisconsin-Madison, 2009
Research and Professional Interests
A Certified Rehabilitation Counselor, Professor Chiu's research investigates issues related to the health and quality of life of people with chronic illnesses and disabilities. Much of her work focuses on people with multiple sclerosis and cancer survivors. Within the population of multiple sclerosis, she has examined the mediating effects of exercise, diet, and stress management on functional disability and health-related quality of life; dietary and physical activity self-management; and the effectiveness of the Health Action Process Approach as a health promotion model.
Please see curriculum vitae for information about awards, academic and professional honors, publications, and professional associations and certifications.