Michael De Lisio, Ph.D.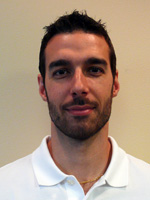 Assistant Professor
Department of Kinesiology and Community Health
College of Applied Health Sciences
Email: mdelisio@illinois.edu

Phone:(217) 244-0968

University of Illinois at Urbana-Champaign
Download Curriculum Vitae (PDF)

---
Degree
Ph.D., Kinesiology, McMaster University, 2012
Research
Exercise and Stem Cell Physiology Lab
Research and Professional Interests
Dr. De Lisio's area of research interest is exercise physiology with a focus on the molecular mechanisms regulating adult stem cells in bone marrow and muscle in response to exercise. Adult stem cells are a reserve population of cells found in a variety of tissues throughout the body. These cells are responsible for daily maintenance of tissue homeostasis as well as regeneration of damaged or diseased tissue. Loss or dysfunction of these cells has been implicated in a number of diseases, and recent evidence suggests that lifestyle factors can have profound implications on stem cell quantity and function. Specifically, research in the Exercise and Stem Cell Physiology Lab focuses on how exercise can alter stem cell quantity and function to prevent or treat disease through protection from oxidative damage, alterations in stem cell fate decisions or optimization of the stem cell secretome. Using a variety of molecular techniques and in vitro, mouse and human models, current projects are aimed at determining the optimal dose of exercise for stem cell mobilization, the physiological function of circulating stem cells and the prevention or reversal of stem cell dysfunction in chronic diseases such as aging, obesity and cancer with exercise.
Please see curriculum vitae for information about awards, academic and professional honors, publications, and professional associations and certifications.