Juliet Iwelunmor, Ph.D.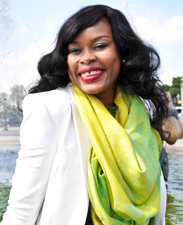 Assistant Professor
Department of Kinesiology and Community Health
College of Applied Health Sciences
Email: jiwez@illinois.edu

Phone:(217) 333-2307

University of Illinois at Urbana-Champaign
Download Curriculum Vitae (PDF)

---
Degree
Ph.D. Biobehavioral Health, The Pennsylvania State University, 2011
Research and Professional Interests
Dr. Iwelunmor's research explores social, cultural, behavioral, and policy factors that influence the health of individuals, families, and communities across the lifespan. She is particularly interested in global health issues, having previously worked as the Culture Sector coordinator for the United Nations Educational, Scientific and Cultural Organization (UNESCO) Intersectoral Platform on HIV and AIDS. Dr. Iwelunmor completed her Ph.D. in Biobehavioral Health and Demography at The Pennsylvania State University, from which she also received her undergraduate degree in Human Development and Family Studies.
Please see curriculum vitae for information about awards, academic and professional honors, publications, and professional associations and certifications.