Hillary Klonoff-Cohen, Ph.D.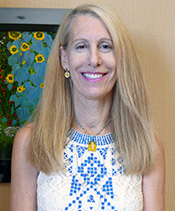 Professor
Department of Kinesiology and Community Health
College of Applied Health Sciences
Email: klonoffc@illinois.edu

Phone:(217) 333-2307

University of Illinois at Urbana-Champaign
Download Curriculum Vitae (PDF)

---
Degree
Ph.D. Epidemiology, University of North Carolina, 1987
Research and Professional Interests
Professor Klonoff-Cohen serves as the Saul J. Morse and Anne B. Morgan Professor in Applied Health Sciences, and Director of the MPH program. She joined U of I from the Department of Family and Preventive Medicine at the University of California, San Diego, where she is a Professor Emerita. She received her doctoral degree in Epidemiology from the University of North Carolina, a Master's degree in Biology from the University of Bridgeport, and a Bachelor's degree in Psychology from the University of British Columbia.
Professor Klonoff-Cohen integrates biological, behavioral, cultural, and socio-political aspects of disease and disease prevention. She is particularly interested in women and infants' health and cancer epidemiology. With research funding for the past two decades, she has investigated the role of sperm exposure, smoking, and stress in preeclampsia; the consequences of passive tobacco smoke exposure and breastfeeding, parental drug use, and bed-sharing on Sudden Infant Death Syndrome; the timing of the menstrual cycle during surgery on prognosis of premenopausal breast cancer; and the effects of lifestyle habits on in vitro fertilization endpoints, including pregnancy, miscarriage, and birth defects. Her current research focuses on the barriers, concerns, successes, and risks of fertility preservation in girls and women of reproductive age with cancer, late effects and risky behaviors among childhood cancer survivors, and training of primary care physicians about caring for cancer survivors.
Additionally, Professor Klonoff-Cohen is enthusiastic about the recent accreditation of the Master of Public Health program, and plans to broaden the MPH and PhD programs' reputation, quality, and collaborations locally, statewide, and nationally to address health care issues.
Please see curriculum vitae for information about awards, academic and professional honors, publications, and professional associations and certifications.