Edward McAuley, Ph.D.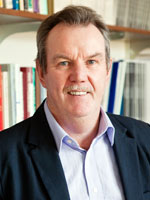 Professor
Department of Kinesiology and Community Health
College of Applied Health Sciences
Email: emcauley@illinois.edu
Phone:(217) 333-6487
Fax:(217) 244-7322

Professor, Beckman Institute for Advanced Science and Technology
Professor, Department of Psychology
College of Liberal Arts & Sciences
University of Illinois at Urbana-Champaign
Download Curriculum Vitae (PDF)
Research: Exercise Psychology Laboratory (EPL)
---
Degree
Ph.D., Sport and Exercise Psychology, University of Iowa, December, 1982
Research and Professional Interests
Dr. McAuley's area of professional interest is exercise and health psychology, with particular emphasis on physical activity promotion across the lifespan and those factors that contribute to independent living and quality of life. His research focuses on physical activity and well-being across the lifespan and the relationships among physical activity, social cognitive factors, function, disability, and quality of life.
Visit the lab page: Exercise Psychology
See curriculum vitae for information about awards, academic and professional honors, publications, and professional associations and certifications.