Steven Petruzzello, Ph.D.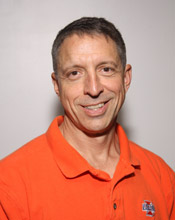 Associate Professor
Department of Kinesiology and Community Health
College of Applied Health Sciences
Email: petruzze@illinois.edu
Phone:(217) 244-7325
Fax:(217) 244-7322

University of Illinois at Urbana-Champaign
Download Curriculum Vitae (PDF)
Research: Exercise Psychophysiology Laboratory (ExPPL)
---
Degree
Ph.D.; Exercise Science, Psychology of Exercise and Sport; Arizona State University, 1991
Research and Professional Interests
Professor Petruzzello's professional interests include psychology of exercise; physiological and psychological mechanisms for exercise-related changes. His research focuses on determining the mechanisms underlying effectiveness of aerobic exercise in improving affect/emotion. The second line of research examines the physiological and psychological aspects of firefighting.
Visit the lab page: Exercise Psychophysiology Laboratory
See curriculum vitae for information about awards, academic and professional honors, publications, and professional associations and certifications.