Jacob Sosnoff, Ph.D.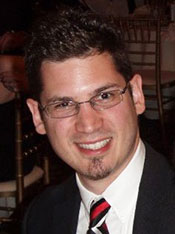 Associate Professor
Department of Kinesiology and Community Health
College of Applied Health Sciences
Email: jsosnoff@illinois.edu
Phone:(217) 333-9472
Fax:(217) 244-7322

University of Illinois at Urbana-Champaign
Download Curriculum Vitae (PDF)
Research: Motor Control Research Laboratory
---
Degree
Ph.D., Kinesiology, Pennsylvania State University, 2005
Research and Professional Interests
Professor Sosnoff's areas of interest are Motor Behavior and Control, Aging, and Perceptual-Motor Variability. His research focuses primarily on the underlying neurophysiological and behavioral factors responsible for fluctuations (i.e. variability) in performance across the lifespan. This research interest is based on the rationale that a better understanding of these mechanisms will facilitate the development of practical interventions capable of minimizing the negative aspects of the aging process.
See curriculum vitae for information about awards, academic and professional honors, publications, and professional associations and certifications.