Kenneth Wilund, Ph.D.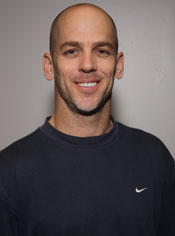 Associate Professor
Department of Kinesiology and Community Health
College of Applied Health Sciences
Email: kwilund@illinois.edu
Phone:(217) 265-6755
Fax:(217) 244-7322

University of Illinois at Urbana-Champaign
Download Curriculum Vitae (PDF)
Research: Renal and Cardiovascular Disease Research Laboratory
---
Degree
Ph.D., Kinesiology, University of Maryland, 2000
Research and Professional Interests
Professor Wilund's area of interest is exercise science. The focus of the research in our lab is to investigate the efficacy of lifestyle modifications (exercise and dietary factors) on co-morbidities associated with chronic kidney disease (CKD). CKD is a progressive disorder associated with severe metabolic disturbances that greatly increase the risk for cardiovascular disease (CVD), osteoporosis, muscle wasting, and other disorders that contribute to extremely low physical functioning in this population. Current pharmacological therapies have failed to significantly improve the health and quality of life (QOL) of this rapidly growing patient population, therefore investigating the efficacy of alternative or supplemental therapies is clearly needed. Our research will provide novel information regarding the effects of novel and easy to administer lifestyle interventions on clinical outcomes and QOL in dialysis patients. Results from our work will enable nephrologists to make more informed decisions regarding the extent to which these low-cost treatment strategies should be included as a component of the standard care in their clinics. Ultimately, this could lead to greater use of these treatment strategies and result in significant improvements in the health and QOL of this critically ill patient population.
Visit the lab page: Renal and Cardiovascular Disease Research Laboratory
Outreach: Lifetime Fitness Program
See curriculum vitae for information about awards, academic and professional honors, publications, and professional associations and certifications.