Citlali Lopez-Ortiz, Ph.D.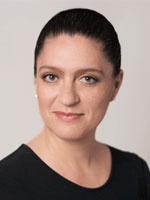 Assistant Professor
Department of Kinesiology and Community Health
College of Applied Health Sciences
Email: lopezort@illinois.edu
Phone: (217) 300-1022
Fax:(217) 244-7322

University of Illinois at Urbana-Champaign
Download Curriculum Vitae (PDF)

---
Research
Neuroscience of Dance in Health and Disability Laboratory
Degree
Ph.D., Kinesiology, University of Wisconsin-Madison, Biomechanics, 2001
M.A., Dance Biomechanics, State University of New York at Brockport, 1994
Research and Professional Interests
Dr. Lopez-Ortiz's research focuses on how the human brain generates dexterity in motor coordination using the language of dance movement to inform the design of dance/movement training protocols in health, disease, and disability through the life span. Her research is intrinsically interdisciplinary. It includes the areas of dance, biomechanics, mathematical modeling, motor control, motor learning, physics, body-environment interfaces, mixed media, computational neuroscience, neurophysiology, and rehabilitation.
See curriculum vitae for information about awards, academic and professional honors, publications, and professional associations and certifications.