Kahlilah Cooke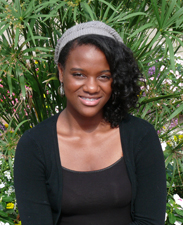 Kahlilah Cooke is a sophomore in kinesiology.
What are your general impressions of your studies and the Department of Kinesiology and Community Health as a whole?
I'm always impressed by the professors of the Department of Kinesiology and Community Health because they do a great job of helping students connect their personal experiences to the class material. Now whenever I hear anything about exercise, health, or nutrition I automatically start thinking of the things I learned in class. This makes me feel as though all the time I spend studying is worth it because I know I can apply it to my life outside of school.
What has been your most interesting experience at the University of Illinois?
It's great when the Illini Union Board arranges to have speakers come for an evening. When Adrian Grenier came to talk about his documentary "Teenage Paparazzo," it was amazing because from him I learned a lot about media and gained some new insights on the film industry. I like how these nights offer me the chance to hear from people in other fields that interest me.
What are your post-graduation plans?
After graduation I plan to continue my education and receive my PhD. I eventually want to work as a physical therapist for professional dancers in a dance company.
What extracurricular activities/student organizations are you involved with?
I am a member of the Ghungroo Dance Company which is the only non-competitive Indian dance team on campus. I am also part of the Illini Pole Fitness Club. Between the two groups I get some really fun workouts! Currently I am studying abroad but when I get back I also want to check out the archery and horseback riding clubs.
What do you like to do for fun?
I have a huge interest in cinema so I love to watch films. I love almost every movie I have ever seen. I also like going to Krannert to see the performances. There is almost always something to see and student tickets help out because they are so cheap!
Why would you recommend community health and the College of Applied Health Sciences to others?
AHS is a great place to cultivate your interest in health. The advisors encourage you to explore your professional options and teach you how to combine your interests with your courses so that you can truly be on the path for a career you love. The professors are all very passionate about the subjects they teach and encourage us to get out there and share what we know. I may not have graduated yet, but I already have already helped others with the information I have learned.