Lynn Herrmann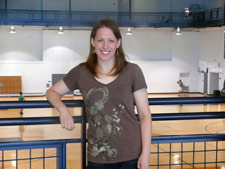 Lynn Herrmann is a graduate student in Kinesiology and Community Health.
What are your general impressions of your graduate program and the KCH department?
As a current doctoral student in Community Health, I was drawn to the KCH department because I was allowed and encouraged to take a variety of classes that suited my interests. My interests happen to combine both community health and kinesiology. I felt like I had many options and resources as I refined my research interests.
What has been your most interesting experience at the University of Illinois?
I was honored to receive the Campus Teaching Excellence Award in 2010. At the awards ceremony and reception, I had an opportunity to meet and have conversations with people from departments all over campus who truly value teaching and learning.
Briefly describe your research focus.
My dissertation is about gender and exercise. I am looking at how personal and social factors influence exercise choices among men and women.
What are your post-graduation plans?
I am looking into a variety of academic positions in which I can teach and do research. I am also going to continue teaching group exercise classes and further expand my work as a continuing education provider/trainer for exercise professionals (e.g., fitness instructors and personal trainers).
What do you like to do for fun?
Anything that has to do with group exercise! I teach group exercise classes for Campus Recreation, including Zumba, Beamwork, PiYo, and MVe Pilates. I enjoy going to group exercise trainings and masterclasses.
I also have fun with my dogs, 3 very active Shelties.
Why would you recommend graduate studies in KCH to others?
KCH graduate studies offer a flexible program that can be tailored to students' specific interests.