Clifton Maxwell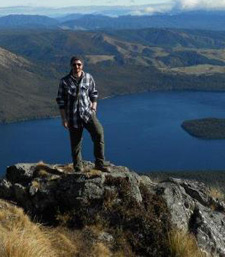 Clifton Maxwell is a senior in kinesiology.
What are your general impressions of your studies and the Department of Kinesiology and Community Health as a whole?
I like kinesiology. You go more and more in depth into the fact that exercise prevents disease. I think this perspective will help a lot in my medical practice.
What has been your most interesting experience at the University of Illinois?
Volunteering on the oncology floor at Carle Hospital was pretty interesting. You're dealing with terminal patients and some of them don't have a lot of visitors. They're left to their thoughts and they'll really open up to you if you just go in and talk with them. That was a deeply moving experience.
What are your post-graduation plans?
I hope to get into a college of osteopathic medicine. I'm particularly interested in sports medicine, but that could change. I've gotten more open as college has progressed, and I'm interested in cardiology, oncology. There's a good chance I'll just do general practice—there's a big shortage of general practitioners.
What extracurricular activities/student organizations are you involved with?
I'm active in Phi Delta Epsilon, the medical fraternity on campus, and have done a lot of philanthropic work and networking through them. I was in Orange Krush during my sophomore year, and I became certified in CPR to work with Illinois Emergency Medical Services for a semester. In addition to the oncology unit, I volunteered in the one-day surgery unit at Carle and am currently working in the SurgiCenter. I'm also a member of Dr. Ken Wilund's research team, which is investigating the effects of physical activity and protein supplements on the quality of life of dialysis patients. I coach patients through an exercise routine while they're undergoing dialysis.
What do you like to do for fun?
I am a big outdoors guy, and like to fish and to hunt, especially bow hunting. Music also is a big thing of mine. I play guitar and I've taught myself a little piano. I also go to the ARC (Activities and Recreation Center) quite a bit to play basketball.
Why would you recommend community health and the College of Applied Health Sciences to others?
The kinesiology classes are interesting. They're small enough that you can get to know most people. I think kinesiology has prepared me really well for a career in osteopathic medicine, which takes a whole body/mind approach to health.