Charles Hillman
Associate Professor
Kinesiology and Community Health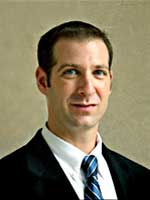 The link between exercise and physical health has been clearly established. Also well established is the relationship between physical activity and cognitive health in older adults. Some of the contributions to this latter body of work were made by Charles Hillman. In recent years, however, he has been conducting groundbreaking research that examines the relationship between physical activity and brain health in children.
Dr. Hillman is engaged in a four-year clinical study called Fitness Improves Thinking or FIT Kids, funded by the National Institutes of Health. It is the first intervention study to manipulate fitness in order to promote beneficial changes in cognition. After being pre-tested to assess cognitive health and function, seven- to nine-year-old, largely sedentary children are randomly assigned to intervention and control groups. The intervention group attends an afterschool program that engages children in at least 60 minutes of moderate to vigorous physical activity each school day. At the end of the year, the children once again take the battery of tests that measure cognitive health and function. Dr. Hillman's preliminary data has shown that after exercise, more attentional resources are allocated to tasks, cognitive processing speed is increased, and cognitive performance improves. Through the use of magnetic resonance imaging and his collaborations within the Beckman Institute, he has also assessed brain structure.
"We've looked at the hippocampus and the basal ganglia," he said. "High-fit kids show greater hippocampal volume, which positively affects how well they perform on certain memory tests, and greater basal ganglia volume, which is related to cognitive control functions underlying action."
Dr. Hillman's work has been used to support legislation in two states that increased the mandatory minimum number of physical education units in schools. With childhood obesity rates on the rise and the levels of physical activity among children at alarming lows, he is hoping that his findings will continue to give rise to legislation as well as to changes at home.