Flavia Andrade
Assistant Professor
Kinesiology and Community Health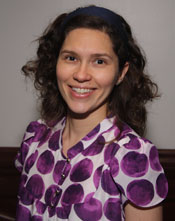 Demographic changes, including aging, are occurring at a much faster rate in Latin American and Caribbean countries than in developed countries. In addition, epidemiological and nutritional transitions are also in progress. "There is a rise in the prevalence of chronic conditions, such as diabetes in Latin America and the Caribbean" says Flavia Andrade. "These countries have also been experiencing dramatic changes in diet, such as increased consumption of refined carbohydrates, sugars, and fats. At the same time, physical activity levels are not improving in these countries."
To better understand the impact of these transitions on the health and well-being of individuals in Latin American and Caribbean countries, Dr. Andrade has been exploring the impact of obesity, diabetes, and related diseases on healthy life expectancy in these countries, Brazil and Mexico in particular. She has also been extending her research to understand how socioeconomic inequalities play a role in the well-being of older adults in these countries.
In her second project, Dr. Andrade has been addressing how the epidemiological and nutritional transitions underway in Mexico are influencing the health and well-being of young adults. In UP Amigos, a collaborative project between University of Illinois and the Universidad Autonóma de San Luis Potosí in Mexico, she has been analyzing environmental and genetic determinants of obesity and related diseases based on biological and survey data collected on more than 30,000 college applicants.
Finally, given the connection between health outcomes in Latin America and among Latinos in the U.S., Dr. Andrade been has exploring how epidemiological, nutritional, and demographic transitions have been affecting the health and well-being of Latinos in the U.S. The overarching goal of her research is to identify factors at multiple levels of analysis that are linked to health outcomes and amenable to intervention. Ultimately, Dr. Andrade would like her research to contribute toward longer, better, and healthier lives for these populations.
Dr. Andrade received her Ph.D. from the University of Wisconsin-Madison. A native of Brazil, she has taught at universities in Brazil and worked for many organizations, including foundations and governmental institutions in Brazil and the United Nations. Her work has been published in books and various academic journals.