Jeff Woods
Professor
Department of Kinesiology and Community Health
Ph.D. Exercise Science, University of South Carolina, 1992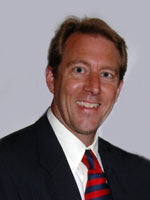 Professor Woods became interested in the impact of exercise on the immune system as a doctoral student at the University of South Carolina, where he initiated a collaborative research effort between his advisor's lab and the Department of Pathology and Microbiology in the School of Medicine. He was among the first scholars to explore the relationship between physical activity and the immune response.
"When I was working on my Ph.D., we had a high-speed centrifuge delivered to the gymnasium, where we had our labs in the basement," he recalled. "I remember the guy from the manufacturer asking me, 'What are you going to do? Wash sweat socks in this thing?"
Not only did Professor Woods not wash sweat socks, he went on to build his career making significant contributions to our understanding of the body's response to exercise. He currently has two lines of research ongoing in his lab. One is investigating whether exercise can alter inflammation in a way that reduces disease morbidity and mortality. The other research focuses on whether exercise can improve immune responses in older adults and others with dysregulated immune responses.
In a recent study funded by the National Institute on Aging, Professor Woods measured the response to the influenza vaccine in a group of previously sedentary older adults who engaged in moderate cardiovascular exercise for 10 months. Their response was compared to a group of older adults who were given flexibility and balance training, but no cardiovascular exercise. Both groups showed similar peak responses to the vaccine, three to six weeks after the vaccination. The group that engaged in cardiovascular exercise, however, had higher levels of antibodies in response to the vaccine 24 weeks after the vaccine was administered. The antibodies were at levels that were still protective, which is important to weathering late-season flu outbreaks that commonly occur.
In addition to prolonging seroprotection, Professor Woods was the one of the first to show that exercise can reduce adipose tissue inflammation related to obesity. His research has also demonstrated that exercise reduces chronic inflammation in older adults. His goal now is to identify the underlying cellular mechanisms that contribute to the positive impact of exercise on the immune response and inflammation. He also hopes to discover whether exercise-induced reductions in inflammation can attenuate feelings of sickness and depression that typically result from chronic illness.