David Strauser
Associate Professor
Kinesiology and Community Health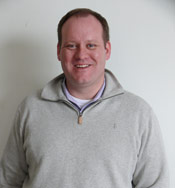 David Strauser investigates aspects of personality development and how it relates to employment, community involvement, and psychological well-being among people with cognitive and psychiatric disabilities.
His recent research examines these outcomes among young adult brain tumor survivors. Various levels of disability may result from the removal of brain tumors through surgery, radiation, and chemotherapy. In his multiphase study of 18- to 30-year-old adults, who were diagnosed with brain tumors anywhere from age 3 to 18, Dr. Strauser is investigating how the age of diagnosis relates to the development of effective work behaviors, and how it impacts the way brain tumor survivors view their ability to succeed in the workplace.
Dr. Strauser, who completed his doctoral degree at the University of Wisconsin-Madison in 1995, first established a strong positive correlation between results on his Developmental Work Personality Scale—which measures such things as task orientation and the ability to get along with other people—and productivity in the workplace.
He then analyzed these results in relation to the age of diagnosis, finding that young adults who'd been diagnosed with brain tumors before the age of 6 and after the age of 12 have more productive work behaviors than those diagnosed between the ages of 6 and 12. This is a critical developmental time for children, when they learn many behaviors that carry over to meeting work demands as they adapt to the social and structural demands of school.
As he continues his research, Dr. Strauser hopes to further illuminate the developmental nature of work behaviors and to tease out some of the other variables that may impact work personality development by examining detailed neurological profiles of brain tumor survivors, as well as differences in their families' involvement in their care and recovery. Ultimately, he hopes to develop resources for parents, employers, and the survivors themselves that will enhance their chances of success in the workplace.