Kenneth Wilund
Assistant Professor
Kinesiology and Community Health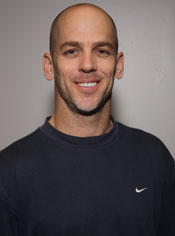 Ken Wilund's research has primarily focused on issues related to cardiovascular disease, such as hypercholesterolemia, atherosclerosis, and the effects of exercise and dietary factors on inflammation, arterial calcification, cholesterol absorption, and microvascular function. He completed his Ph.D. in kinesiology at the University of Maryland.
Dr. Wilund has recently initiated a series of studies to investigate the effects of exercise training and diet on comorbidities in patients with chronic kidney disease (CKD). People with CKD have among the highest rates of death from cardiovascular disease, and the nature of their cardiovascular disease is somewhat unique, he explained. "People with chronic kidney disease don't make the form of vitamin D that absorbs dietary calcium, so calcium is pulled from the bones to maintain serum calcium levels," he said. "This leads to a process known as vascular calcification, in which the smooth muscle cells that maintain the size of blood vessels start to differentiate into bone-like cells." The resulting stiffening of the arteries happens to some extent with aging, Dr. Wilund said, but that calcification results from a normal and passive precipitation of the mineral. By contrast, calcification is an active and regulated process in people with chronic kidney disease, and is much more prevalent among people receiving dialysis.
Medications that people with CKD take to address their bone disorders actually hurt their cardiovascular system. Through his research, Dr. Wilund is hoping to determine if exercise and dietary factors can simultaneously improve both the bone disorders and the vascular complications. He has concluded a four-month pilot study of the effect of exercise, in the form of stationary bicycling, on the health of dialysis patients, finding that exercise led to improvements in several markers of cardiovascular disease risk, but also improved physical function and promoted positive changes in mood, anxiety, and depression. He has initiated a one-year intervention to investigate the effects of protein supplementation on the health and quality of life in dialysis patients. Protein intake is a major problem in this population, as these patients lose amino acids from their blood during dialysis therapy. While existing studies have demonstrated that protein supplementation transiently increases serum protein levels and amino acid uptake in the skeletal muscle, there have been no long-term studies to determine if this results in lasting benefits or positive effects on health.
In the future, Dr. Wilund also plans to undertake a study of the effects of pomegranate supplements on CKD. Some studies have shown that this powerful antioxidant has a positive effect on factors related to cardiovascular disease, including oxidative stress, which also occurs in high levels in patients with kidney disease. After studying a range of variables in isolation, Dr. Wilund hopes to identify a multi-faceted therapeutic intervention that will inhibit the progression of chronic kidney disease and its related cardiovascular complications.