Exercise Immunology Research Laboratory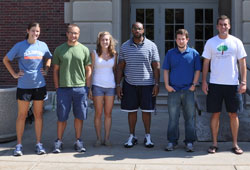 Welcome
Welcome to the Exercise Immunology Website. We're glad you're here! We are one of several laboratories housed in the T.K. Cureton Physical Fitness Research Laboratory that was established in 1944. The broad goal of research conducted in our lab is to generate a public health message and to understand the mechanisms regarding the effects of exercise on immune function and susceptibility to disease. The current belief is that moderate exercise enhances immune function, whereas intense and prolonged exercise suppresses it. Specifically, our experiments are designed to:
Purpose of Experiments
Describe the effects of different doses of exercise on immune functioning;
Determine the mechanisms (e.g. central nervous, endocrine, intracellular) responsible for exercise-induced changes in immunity;
Define the physiological significance of exercise-induced changes in immunity in relation to disease susceptibility and progression, and
Explore the use of appropriate forms of exercise as adjunct therapy for those with deranged immune systems (e.g. elderly, obese).
Importantly, we use both human and animal models in our research. Currently, we are funded by the National Institute on Aging to determine the extent to which exercise training improves immune functioning in older adults. We also have several ongoing studies in mice examining the impact of exercise on:
Impact of Exercise
the immune response and susceptibility to influenza virus
the growth and rejection of tumors; wound healing
inflammation associated with obesity.
We have found that exercise can protect mice from death due to influenza, speed wound healing, and reduce inflammation and blood vessel density in growing tumors. We believe that exercise improves health by reducing acute and chronic diseases. We use state-of-the-art tissue culture facilities, equipment for biochemical measurements, animal telemetry, molecular biology, and clinical exercise and body composition testing.
We enjoy collaborations with investigators in diverse fields such as Veterinary Medicine, Psychology, Molecular Virology, Immunology, Animal Sciences as well as Kinesiology. Our lab is also affiliated with the Integrative, Immunology and Behavior Program.
We hope you find this site useful and I encourage you to email me if you have any questions or an interest in our program.

Dr. Jeff Woods